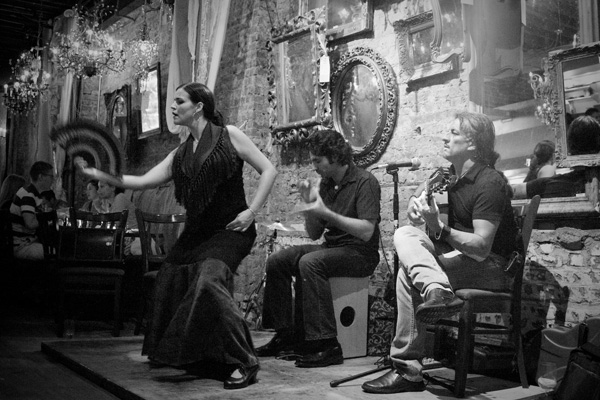 Who is Monica?
Monica Herrera was born in Philadelphia to Cuban parents who migrated to the US in 1961. Her dance training began at an early age in classical ballet, tap and jazz. During her first trip to Spain at the age of 12, she became interested in Flamenco and began her training in Philadelphia with Julia Lopez. She went on to become a company member and soloist with Flamenco Ole dance company. She later co-founded the Philadelphia- based Flamenco troupe Pasión y Arte. She has studied with many wonderful teachers in Spain and New York, including Alejandro Granados, Yolanda Heredia, Alicia Marquez, Raquel Heredia, La China, Omayra Amaya and La Meira.
Work and Highlights
Monica has been a cover dancer for Franco Zeffirelli's production of "Carmen" at the Metropolitan Opera House in New York for the 2004, 2005 and 2008 season. She participates in Arts in Education Programs with Carlota Santana Flamenco Vivo conducting lecture-demonstrations and residency programs throughout the tri-state area. Together with Cristian Puig, Monica co-founded De Luna a Lunares Flamenco ensemble. De Luna a Lunares is an ever-changing group that incorporates various styles of music including jazz, bossa nova and afro-cuban. Monica teaches Flamenco dance in Philadelphia and performs regularly at various tablaos in New York and New Jersey. She conducts many school residencies, performances and master classes in the tri-state area.
Classes
Workshops and Classes
Tuesdays from 6-7 Intermediate Tientos/Tangos
Class card for 4 classes is $90. Must be used within a 2 month time frame from date of purchase
$18.00 drop in rate
Intermediate Class
Every Wednesday 5:30 – 7:00pm
954 Dance Movement Collective
954 Nth 8th St.
Northern Liberties section of Philadelphia
(plenty of street parking right out front)
This class is perfect for the student who has been studying for at least 1 year.
We work on footwork technique, marcaje (marking steps), arms (brazeo) and rhythm, rhythm, rhythm!
Listening to various palos (rhythm) and working within those palos.
We work on palmas (rhythmic hand clapping)
We also have the opportunity to periodically work with a guitarist/singer to learn how to respond and command our dance.
5:30-7:00pm
$18/class drop in
$60 for 4 consecutive weeks.
Blog
Sunday 26, 2014
Sevillanas are a type of folk music and dance of Seville and its region. They were derived from the Seguidilla, an old Castilian folk music and dance genre. In the nineteenth century they were influenced by Flamenco. They have a relatively limited musical pattern but are rich in lyrics based on country life, virgins, country towns, neighborhoods, pilgrimage, and love themes.
(more…)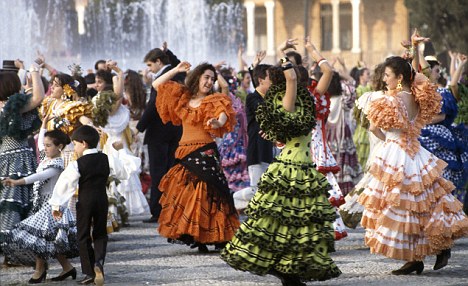 Contact
Please don't hesitate to contact me for more information about my work. I am available Mon – Sat, Sunday is a day of rest.
Email: Phone: (267) 307-5354
No more, where are you going?
Go back to top or use the menu to your left to navigate.